Locally owned and operated out of Halifax, Nova Scotia.

Memories In A Flash

Our primary focus is to convert your old forms of memories into a digital product, that can be passed on through generations.

Your Memories
should last
FOREVER,
Sadly, your videotapes
will not
Your Memories should last forever, unfortunately old media will not.

We offer you a variety of products and services at an affordable price.

We scan and convert photos, slides and negatives into working digital copies, creating files for online picture sharing as well as copying them on to a CD or DVD (The choice is yours).

We transfer video tapes to DVDs. Your video tapes can degrade over time so protecting your movie memories with our tape transfer service is a smart investment.

We offer Photo Restoration Services to repair damages such as scratches, spots, water damage, and red eye. We will also offer services such as, retouching, color improvement, and removal of objects.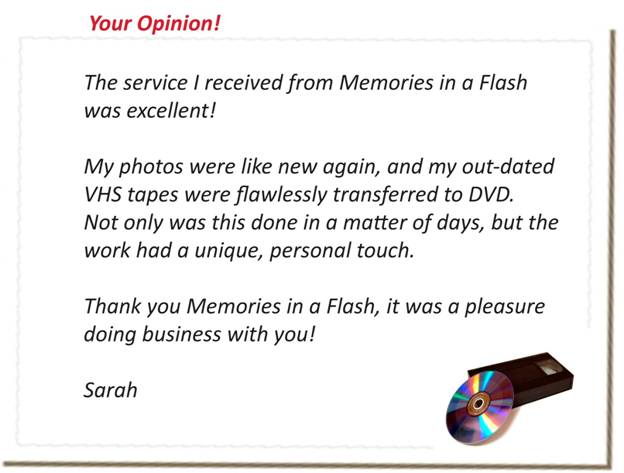 We will offer personalized all occasion cards, a unique and beautiful product.

Each card will be custom made which will give your invitations or announcements a personal touch.

These cards will be printed out for the customer, and we will be providing you with an envelope for each card with your own choice of color.

We will also be offering the added service of printing these envelopes with a return address.

We create Movie Videos/ Slideshows of any event using photos from your own personal collection, creating a unique way to share your memories with family and friends.

The perfect product to celebrate Wedding Anniversaries! Graduations! Bridal Showers! Baby Showers! 50th Birthday Parties and more...

Our primary objective is to give our customers the opportunity to convert their old form of memories into a new digital world.

At Memories In A Flash we know that your photos are priceless, and we take extreme care to protect them.

Your privacy is important to us and your information and materials will remain highly confidential.

They will only be used for the purposes of creating your product, and we will not disclose your information and/or materials to a third party.

YOUR MEMORIES ARE SAFE WITH US!